.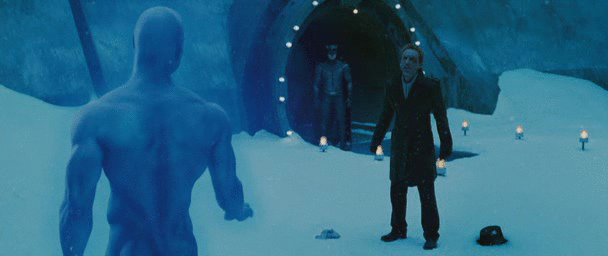 What's terrible is I don't really have anything to say about this scene in Watchmen today, but the phrase "Blue Man Gooped" randomly popped into my head yesterday and lame-ass that I am I couldn't stop giggling about it, hence this. I should try and force something astute then, right? Some amazing revelation on the scene. Hrm. I'm sort of disappointed there's no Manhattan peen to be seen here. Is that good?
No? Okay, let's try this. I named this death
one of the year's best
back in the day, and I said this:
"This one has nothing to do with the gore, or the special effects, or anything except for Jackie Earle Haley's delivery of his final lines. His face bunched into despair. "What's one more body amongst the foundations? Well, what are you waiting for? Do it. DO IT!" Heartbreaking bastard."
I agree with this thing that I said before! And, done.
--------------------------------------